As I mentioned in the previous post there are a lot of factors to consider when purchasing hosting for your website and email.
Here I'll walk you through the process of setting up what I expect will be the most common for folks just starting out.
Today we're going to purchase and set up basic hosting for askleoonbusiness.com at BlueHost.
Choosing what to purchase
Go to BlueHost.com. Generally shared hosting is what they'll feature by default, but just to be certain click on Products, and then Shared Hosting to make sure you're on the page for that product.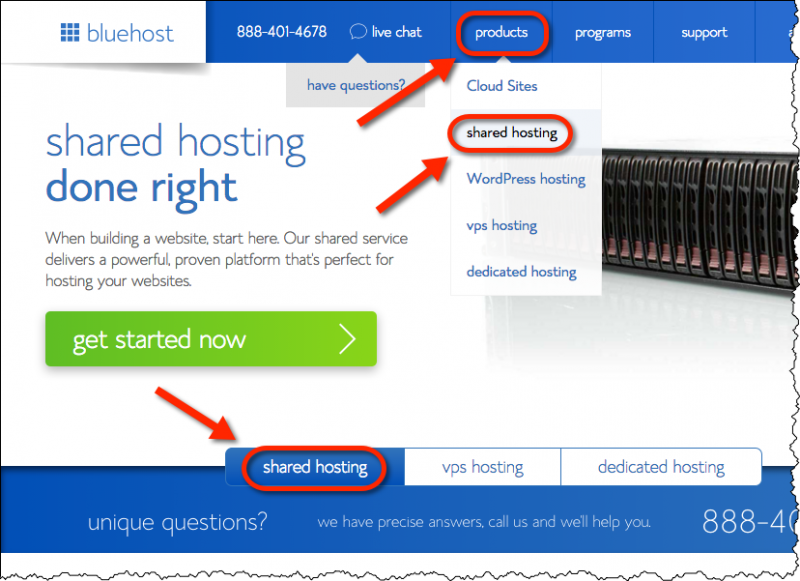 (A quick caveat: web sites are continually being updated and changed. These screen shots are current as of the time this article was written, of course, but shouldwhen they change in the future, pay attention to the concepts I discuss throughout as your guide for where to look and what to click on.)
Towards the bottom of the page you'll be presented with a list of different packages, for different monthly prices.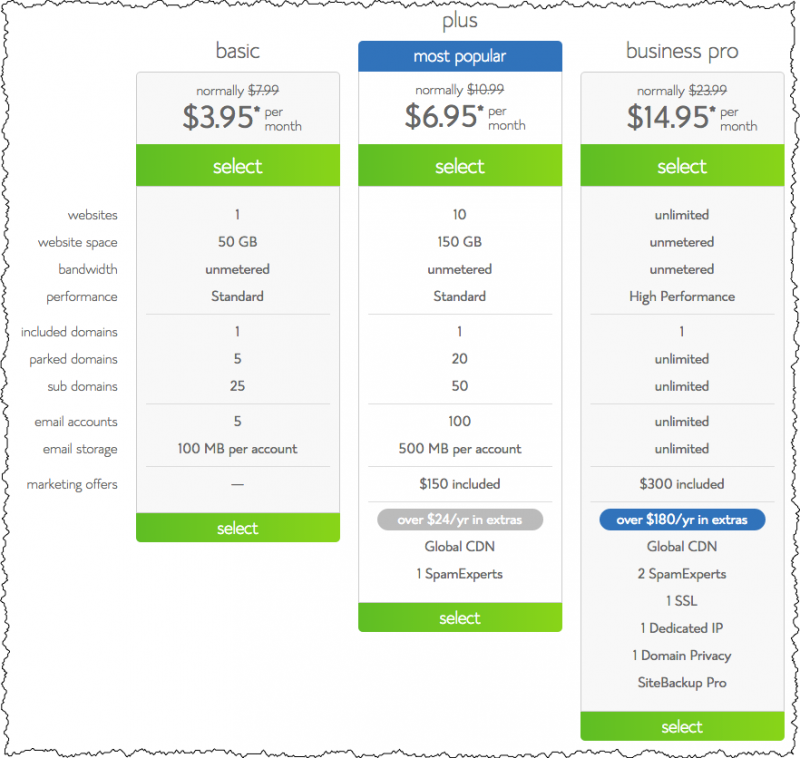 As you can see hosting a single web site need not be terribly expensive. A quick rundown on some of differences:
websites: Quite literally the number of websites you can host under this plan. Personally I find the techniques to host multiple sites in a single plan rather confusing at times, and bundling them into a single plan isn't always the right solution. We'll be focusing on a single website here anyway, since that's where most people start.
website space: Unless you're building an exceptionally large web site – perhaps with lots of audio and video you host yourself (as compared to, say, placing them on YouTube), or a very large number of photographs, these numbers are all plenty.
bandwidth: this is here primarily for comparison against other hosting companies which often charge for the amount of data transferred in (uploaded to) or downloaded from (whic your site visitors do) your website.
performance: It seems understandable that paying more would place your web site on higher performing hardware. Unless you know you're going to have a particularly active website with high server load (hint: most people don't), then this doesn't matter much.
included domains: Recall in the previous post that I mentioned that Bluehost had become a web host that also happened to be a domain registrar. They include purchase of one domain when you sign up for any of their plans. Since we already own our domain this is irrelevant.
parked domains: A parked domain, in Bluehost's terminology, is another domain that points to the same web content as your primary domain. This isn't something we'll be discussing as it's rarely needed.
sub domains: This is perhaps best explained by the very example you're looking at: "biz.askleo.com" is a subdomain of "askleo.com". You'll note that they are completely separate websites. These are nice to have available at times, but represent somewhat advanced usage. They're not something you need to consider here today as we start out.
email accounts: This represents the actual number of email accounts with mailboxes that are supported by the hosting plan. Note that you can still have additional email addresses that only forward to email accounts (for example sales@askleoonbusiness.com could forward to leo@askleoonbusiness.com – only the later might be an email account, the other would be a forwarder with no mailbox of its own). The number could be relevant depending on the number of individual email mailboxes you plan to use on your domain. This is a topic we haven't covered yet, but to start the minimum here should be fine.
email storage: This represents how much email can be stored in your mailbox on the server. Unfortunately with the rise of IMAP usage on mobile devices any limit seems somewhat small, however we'll be covering ways to manage your email that make the smaller limit almost irrelevant in an upcoming post. Bottom line here: smallish is a fine place to start.
marketing offers: Because we all want things marketed at us? What this really means is that a few additional features are included. They're not features that are relevant when starting out, so once again, I'd not be concerned.
As you might imagine from my descriptions above, in most cases the "Basic" plan is a fine place to start.
Click select.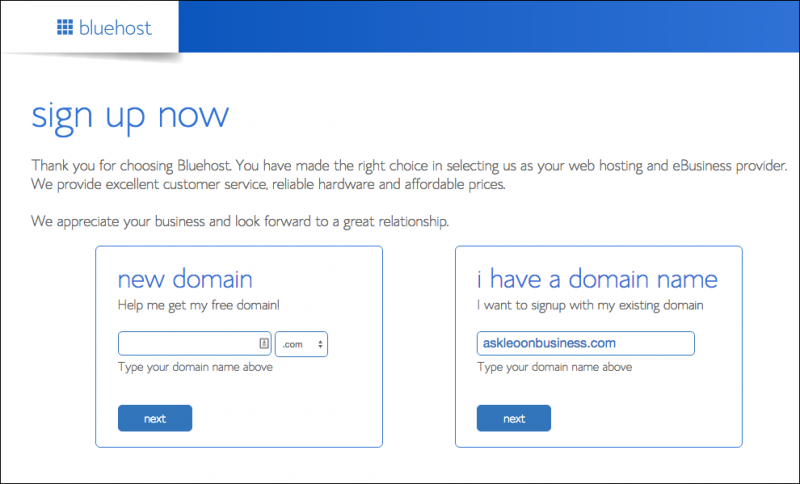 The next step is to either get or specify the domain name we'll be setting up. As I mentioned before, Bluehost will register a domain for you if it's available, but since we've already purchased our own domain we'll specify it instead. Type the domain name you own into the "i have a domain name" box, and click on next.
This will take you to the account signup page where you specify your information, some choices about your purchase, as well as your billing information.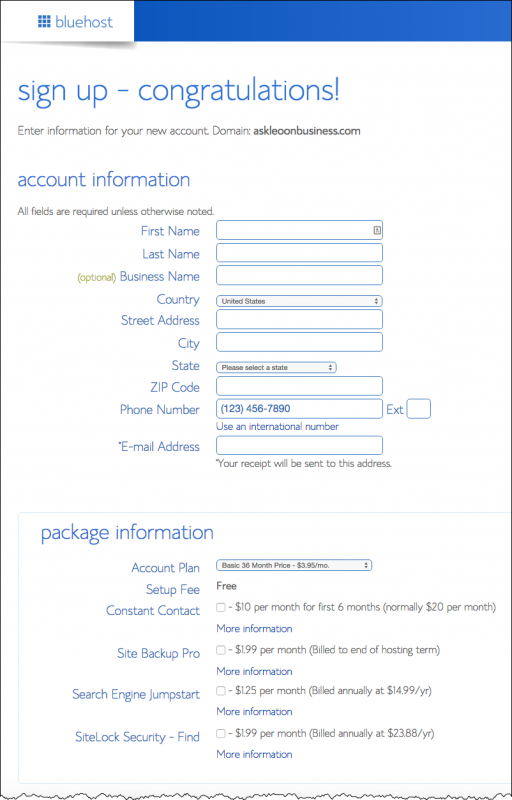 There are a couple of very important things to watch for on this page (and pages like it at other hosting companies).
First, you'll notice that our nice low rate is the rate if we commit to three years of hosting. The price is different for shorter commitments.


Make sure you make an informed decision on what's appropriate for you. In my case I expect askleoonbusiness.com to be around for a while, so I'm electing to choose the 36 month commitment. Your needs may be different.
Second, there are a number of additional add-on products listed, some of which may be selected by default.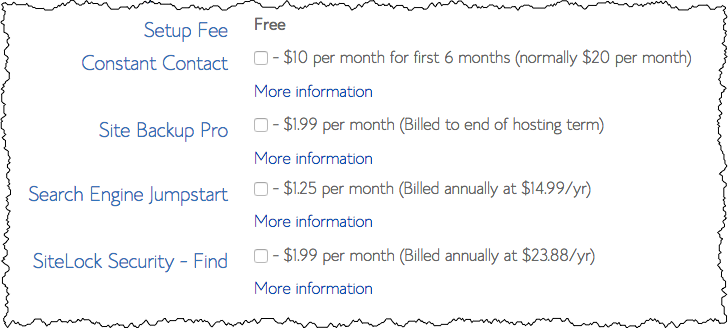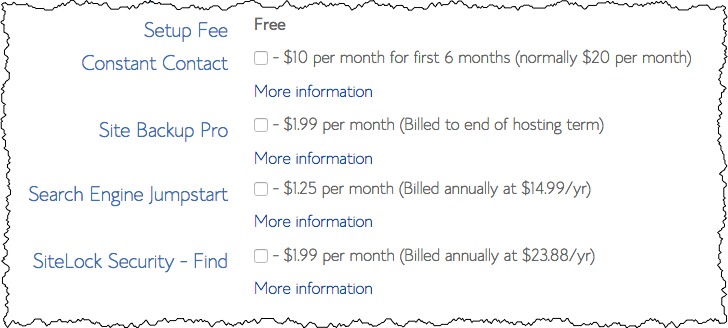 Unless you know you need them (spoiler: you don't), make sure all are unchecked.
Fill in your credit card information (not shown above), click on the checkbox to confirm you've read their terms of service, and click on Submit.
You may be given additional offers at this point. Decline or click on "no thanks". We can always add services later if we decide we need them (spoiler: we probably won't).
You'll now need to create a password for your hosting account. It's to this account you will return periodically to make certain types of changes to your website, manage email accounts, upload files and more.
Congratulations! You have web hosting!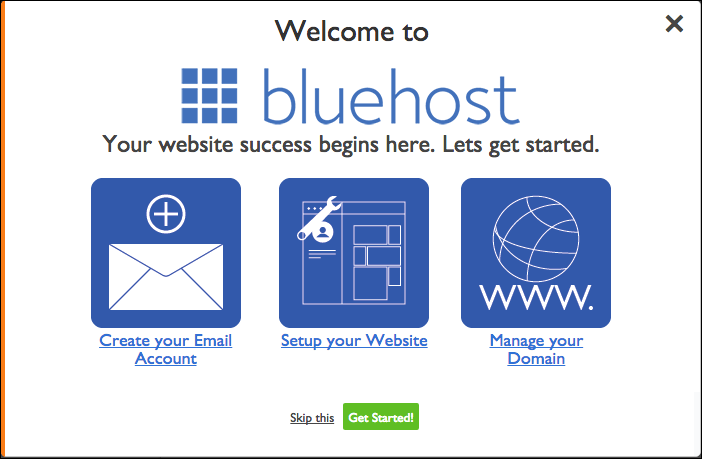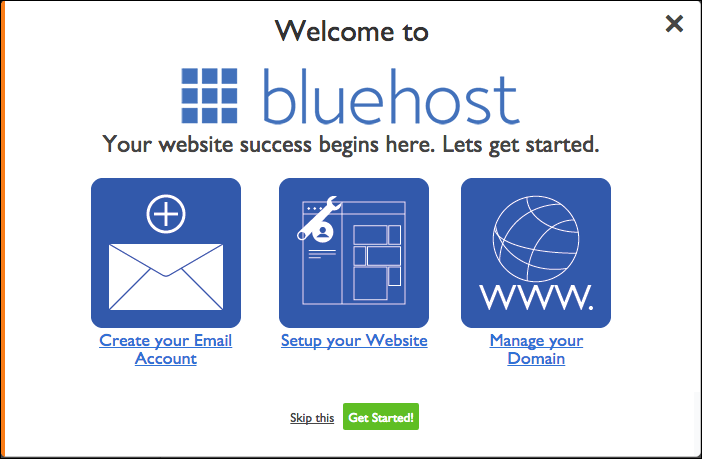 You can click on Skip this. I'll be walking you through the steps you'll need to take next.
In the mean time, this is your home on Bluehost; the interface that you'll use to manage the various and sundry aspects of your web hosting.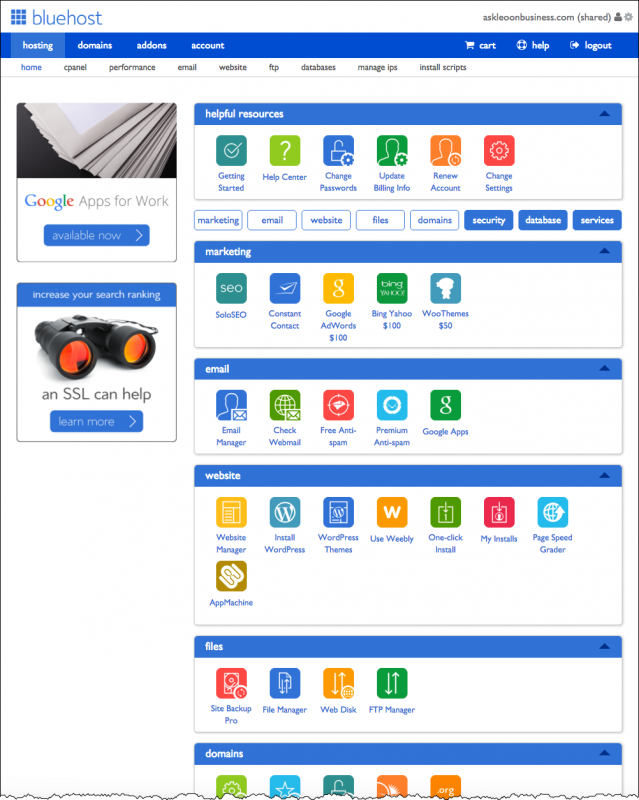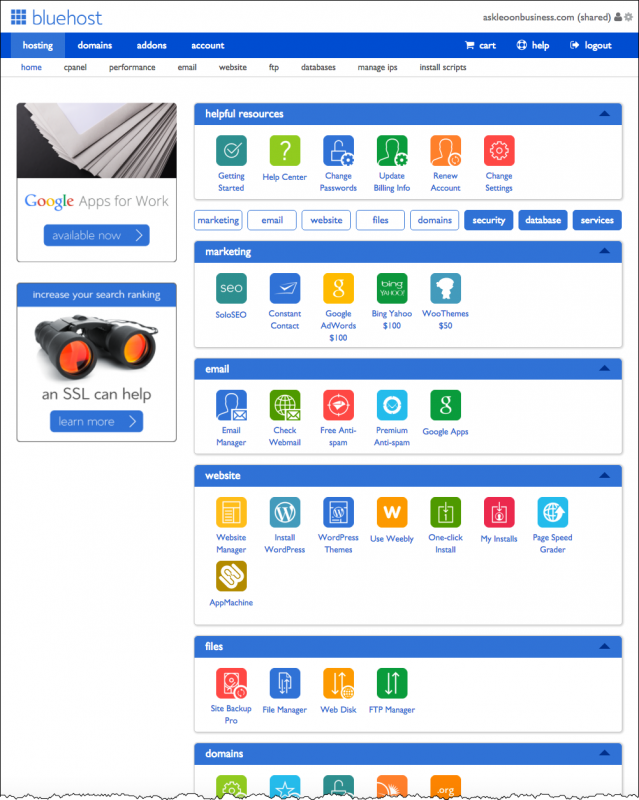 Before we finish today, there's one last thing to do: making a connection.
Connecting your domain to your web hosting
Right now if you actually go to your domain name, you'll get a parking page provided by your registrar. In my case that's SimpleURL.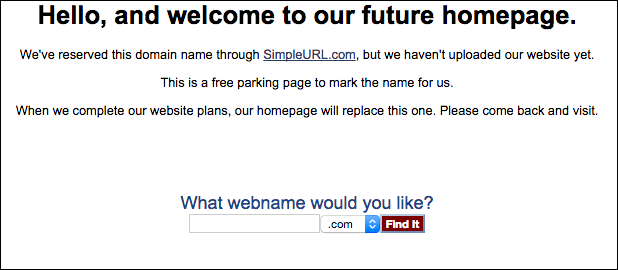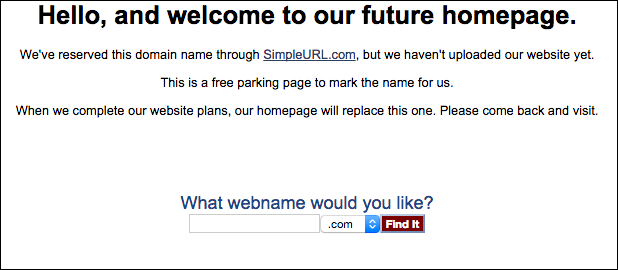 Domain names are human readable, but their intent is to point to a server on the internet. For example as I write this, the domain name askleo.com points to 50.28.23.175, which identifies a specific server.
Right now your domain name points to a server back at your registrar. We now want it to point to the server housing our newly created Bluehost account.
First we need to find out what that IP address is. In your Bluehost account, click on manage ips.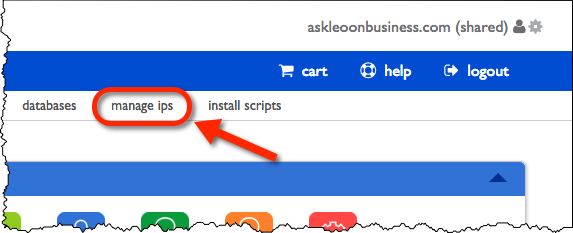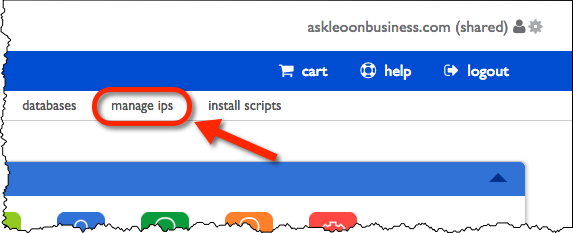 That'll bring up a list of the IP addresses associated with your website.

Simply note your IP (it'll probably be different than mine, shown above). Save that, we'll be using it in a moment.
Now, return to your registrar – SimpleURL in our case – and login to the account you created there when you purchased your domain.
On the resulting page (not shown) click on the Domain Manager button. This will give you a list of the domains that you own, including, or perhaps only, the domain you recently purchased.


Click on the Control Panel button next to your domain. That'll present a long list of information associated with your domain.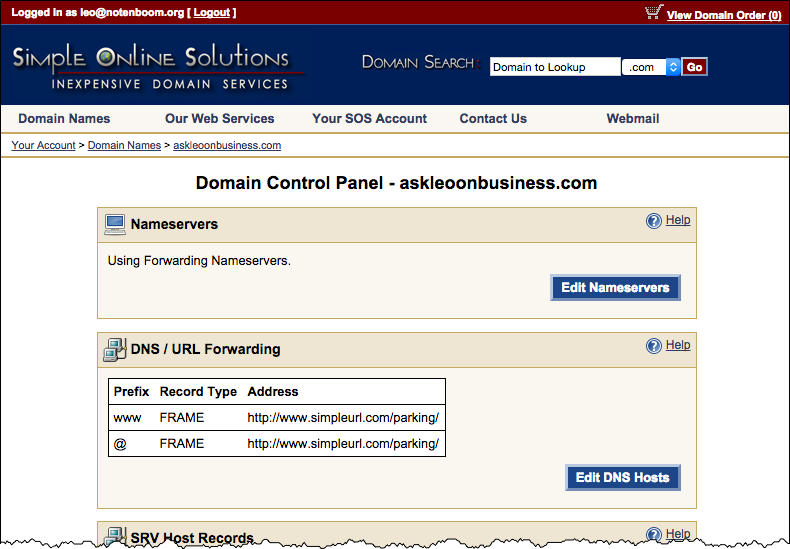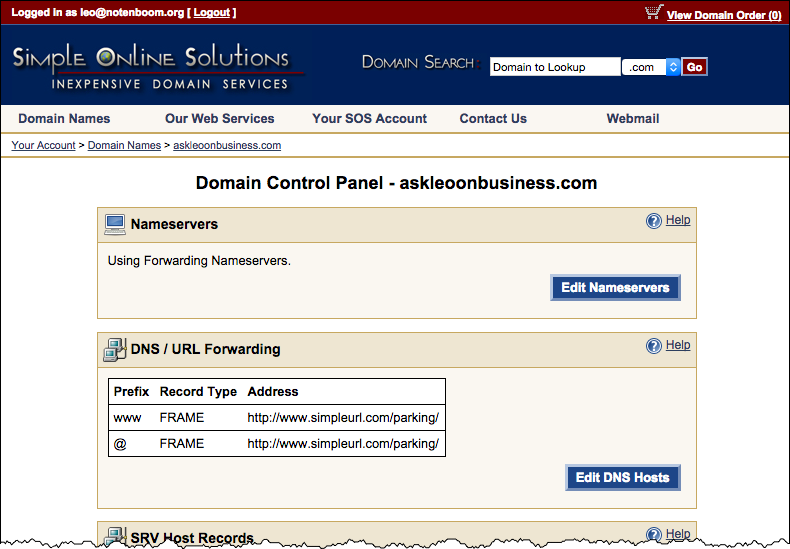 The only thing we care about today is under "DNS / URL Forwarding". Click Edit DNS Hosts.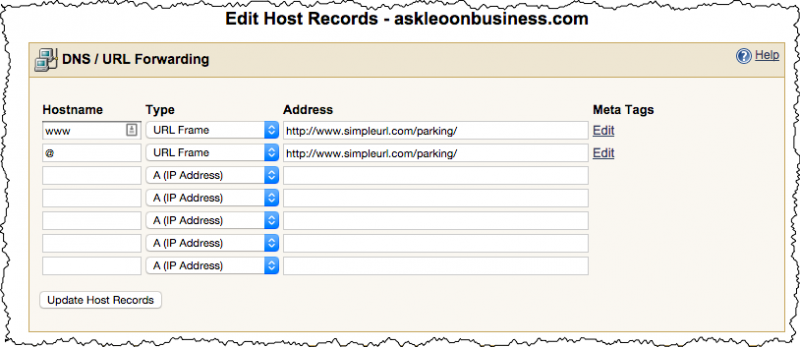 We're going to change the two lines we see there. In each line click on the dropdown next to the word "URL Frame", and click "A (IP address)", And then replace the contents of the address field with the IP address we saved from Bluehost.
My results look like this:


Click Update Host Records and you're done!
If you now go to your website, you'll get Bluehost's parking page, indicating that you have successfully made the transition. (Note: this change can actually take some time to take effect. Up to 48 hours, even, depending on the registrar's DNS service, and the various caches that might be between you and that service. Typically it's much faster. My change happened immediately, but if nothing changes for you, double check the changes you've made and then give it a couple of hours at least and visit your domain again.)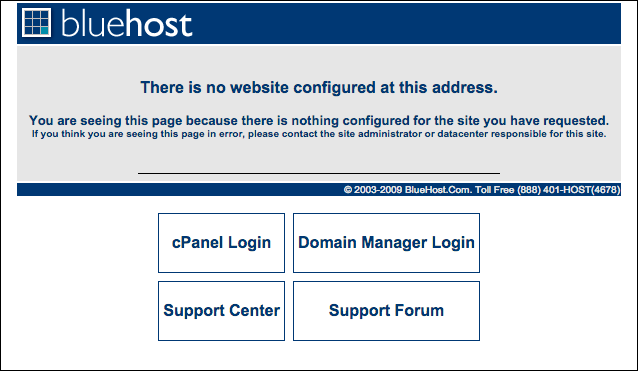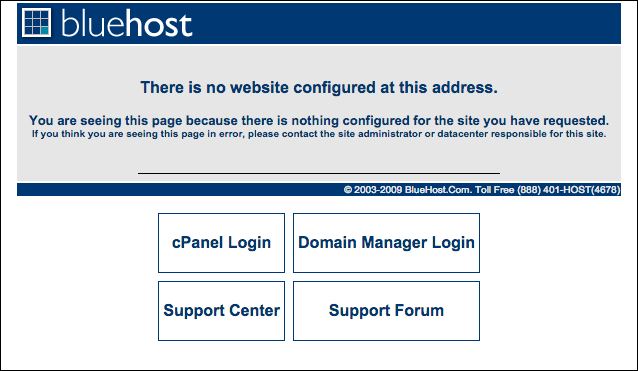 Whew! That was a lot!
Congratulations and well done!
Review and next steps
Don't let the length of these steps intimidate you. It really is a fairly simple process, at least conceptually. All we really did was:
Purchase and set up hosting – a server to be the home for our web site.
Point our domain name – askleoonbusiness.com in my case – to that server.
I think we might have spent most of our time avoiding marketing offers and upsells. 🙂
Next up: we're actually going to put the website itself on the back burner for a moment. Instead, we're going to set up your email address on your own domain.
That way your email communications can start looking their best, right away.
Podcast: Download (Duration: 9:51 — 9.0MB)