Two common issues – and to be honest, frustrations – of many email hosting services are the limitations they place on email, and the poor quality of spam filters they provide.
Fortunately there's a good, free, solution. In fact, it's a solution I use myself every day.
Even though my email is on my own domain, and hosted on my own server, I use Gmail to handle it all. As a result:
I get all the features and functionality of Gmail.
I get the storage that Gmail includes for free (currently 15 gigabytes). This is far more than most hosting companies provide without extra payment.
My email is filtered through Gmail's spam filter, which is probably the best available as of this date.
Today, I'll walk you through the process of setting up your Gmail account to process the email for your domain.
(As an aside: this technique will work with many other email providers as well; I just find Gmail the most powerful and the most useful. The concepts will, in general, apply to any email provider that supports remotely fetching email from another account using POP3, and has the ability to send email "as" a different email address.)
Gmail as your email client
Using Gmail – an email service itself – to access email from a completely different email account on a completely different email service can be confusing.
In a sense, we're using Gmail not as an email service, but rather as an email client.
For example, consider using a desktop email program like Microsoft Office Outlook1 to access your email using POP3. Email you receive is downloaded to your computer and stored there. When sending email, you compose it using the desktop email program, and when you hit Send, it's transmitted to your email provider, which passes it on to its final destination.


We're simply going to use Gmail in place of the desktop email program.

That's quite literally all we're doing.
Get Gmail
I'm going to start by assuming you have a Gmail account. If you don't, create one now. Just go to Gmail.com and follow the steps to create an account. As with any online account, make sure to set up a strong password, and set up all the recovery information you can.
I just created one for the example I'll be using here.

This brings up an important point.
I now have a new Gmail email address: askleoonbusiness@gmail.com.
I will never use it.
I will not send email using this email address, and I will not publicize this email address for anyone to send me email. Email actually sent directly to this email address will consist of three things only:
Official email from Google relating to this account.
Mistakes. (People mis-type an email address and type in mine instead. Or perhaps I accidentally publish the email address somewhere.)
Spam.
I'm going to use this email account, however, to send and receive email from the email address we previously set up on my own domain: leo@askleoonbusiness.com.
By the way, the fact that both this email address and the Gmail email address happen to have "askleoonbusiness" in them is completely irrelevant. The Gmail address could be anything you're able to get, because the people you exchange email with should never see it.2 They'll only see your own domain's email address.
In my case, that's leo@askleoonbusiness.com. I'll refer to this as our "public," "official," or "real" email address. The @gmail.com address is something we'll only use to log in to Gmail.
Get your email through Gmail using POP3
The first thing to do is set up Gmail to fetch email from our webhost's email server.
In Gmail, click on the gear icon, and then click on Settings.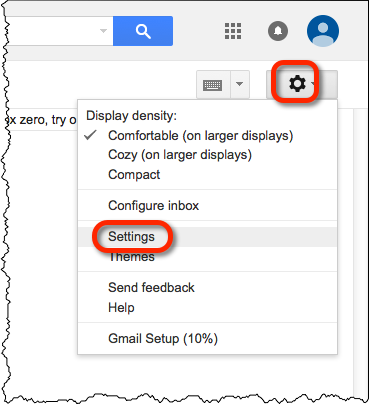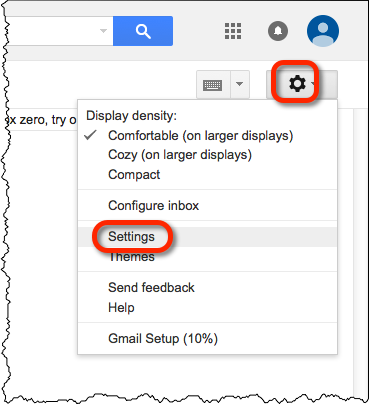 Click on the Accounts and Import tab, and look for the "Check mail from other accounts (using POP3):" section.
Click on Add a POP3 mail account you own.


Enter the email address you created on your own domain, and click Next Step.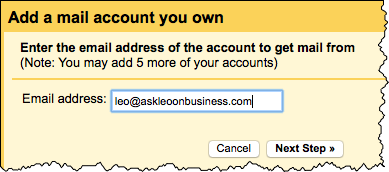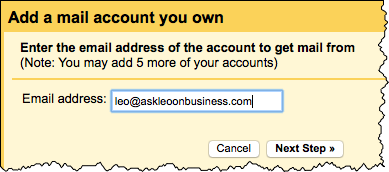 Enter the POP3 information information for your email address, as provided by your web host.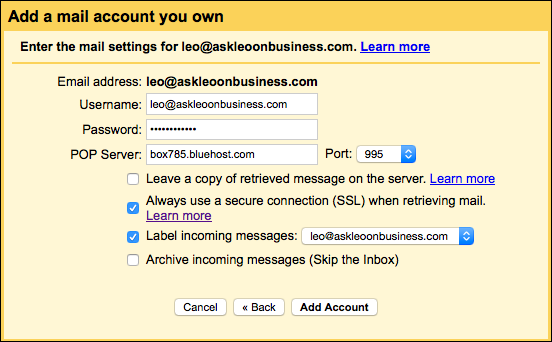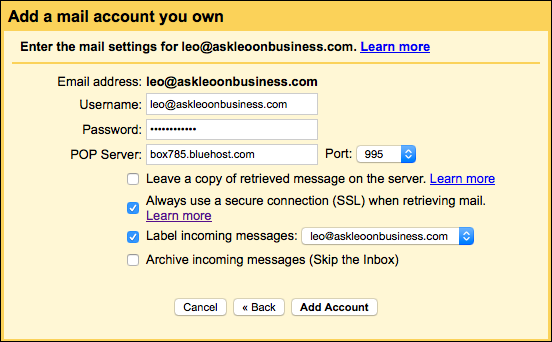 There are several options here as well:
Leave a copy of retrieved messages on the server. This typically should not be set. Particularly if your web host has space limitations, as my example out at BlueHost does, you want your email to be deleted from your host after it's been downloaded to Gmail.
Always use a secure connection (SSL) when retrieving mail. This typically should be set. If your provider supports SSL connections, as most do, this prevents intermediaries from being able to see your unencrypted email.
Label incoming messages: This is purely personal preference. Particularly if you access mail from several different accounts, this is a quick and easy way to see which account a message is associated with.
Archive incoming messages (Skip the Inbox). When using Gmail as your primary interface for email, you do not want this. You want your incoming email to appear in your Inbox normally.
Click Add Account, and you're done. Email sent to your email address on your domain will now automatically show up in your Gmail inbox.
How often does POP3 pick up?
When you use a traditional desktop email program, like Microsoft Office Outlook, you can configure that program to check for new email on a schedule – say every 15 minutes or so. Alternatively, you can hit a "Send/Receive" button (or similar command) to have the program check for new mail right away.
When picking up email using POP3, Gmail doesn't quite work that way.
Gmail checks for new mail on its own schedule, which is not configurable. My understanding is that it's dynamic based on how much email you get. The more email you get, the more often Gmail checks for new email. But that's not really documented, and could change.
The Refresh button above your inbox may cause Gmail to check for new mail at your domain account.

In  my experience so far, it does, except that it often takes a couple of minutes before new messages appear.
Honestly, if the fact that there might be a few minutes before new email shows up is an issue for you, your expectations may be inaccurate. Email was never meant to be an immediate communications medium – it's built to withstand delays of days, after all. If something is really that time sensitive, email might not be the right approach.
Configure "Send Mail As" to send through Gmail
Now that we can receive email, we need Gmail to be able to send "as" our public email address.
Click on the Accounts and Import tab, and look for the "Send mail as" section. Click on Add another email address you own to add the email address you want to be able to send from.


This specifies what appears in the "From:" field of email you send using this email address. It consists of two parts: the "Name:" or display name, and an email address. Enter those for the address you'll be sending from.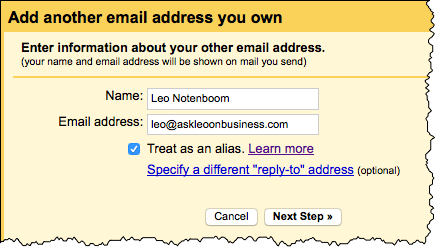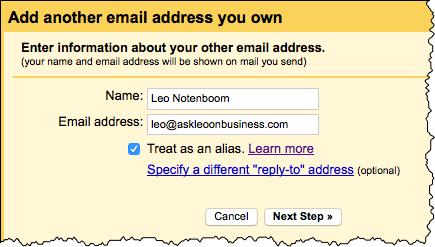 I'll be completely honest and tell you that "Treat as an alias" is horribly confusing. Fortunately, it's also not something that seems to make a great deal of difference. If we ever determine that it should change, we can change it later. Similarly, you can ignore 'Specify a different "reply-to" address'.
Click Next Step. Enter the configuration information to allow Gmail to send email using your account.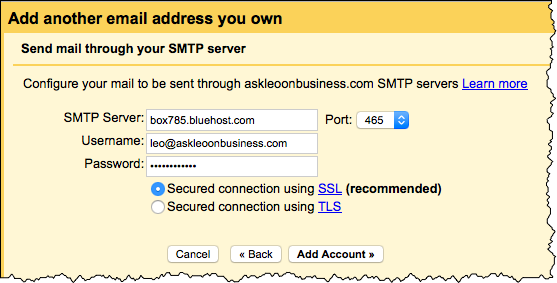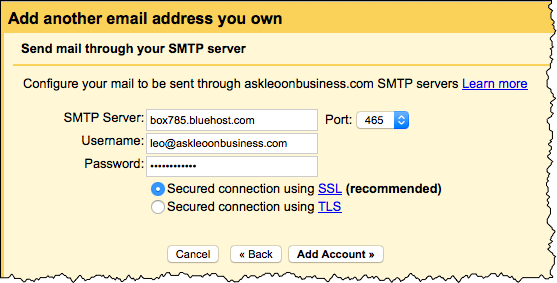 This is the SMTP information given by your web host. I've entered the server, username, password, and port information given to me by Bluehost when I created my askleoonbusiness.com email account earlier.
Click Add Account. Next, you'll confirm that you indeed own the account that you're attempting to "send as". Gmail does this by emailing a message to that email address with a link you can click or a code that you can enter. I've chosen to enter the code (your code, of course, will be different). Click Verify.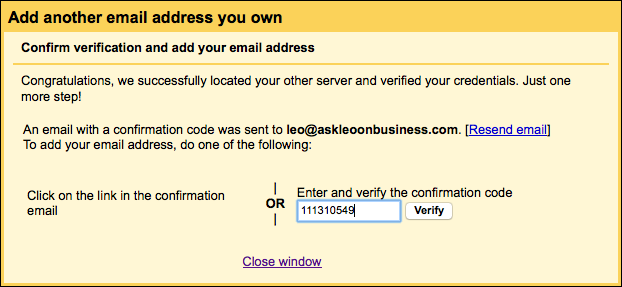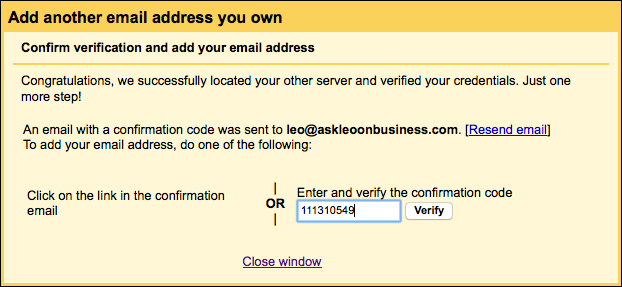 There's one more setting we want to change before we call this done. Still in the "Send mail as" section of your Gmail settings, click on make default next to our newly added "Send mail as" email address.


After doing so, whenever you reply to or compose a new message in Gmail, it will be sent as "From" your email address on your domain, and not the Gmail address.
From: Leo Notenboom <leo@askleoonbusiness.com>
You can now use Gmail to manage your email on your own domain.
Email on the web only: you could stop here
At this point, after setting up Gmail for your official email address, you could be done. In fact, unless you know differently, you are done. There's nothing more that needs to happen.
However, besides having an awesome spam filter and a nifty web interface, Gmail is, of course, a full-featured email service. That means we can – if we want to – do a couple of additional things.
It's beyond the scope of what I want to cover here, but if you like, you can:
Access your email via your mobile device, by configuring that device to access your Gmail account. I do this.
Configure your desktop email program to access your email via Gmail. Using IMAP, you can keep your desktop email and your on-the-web gmail.com email in sync.
Back up your email. How? By configuring your desktop email to use IMAP to access your email, your email is copied onto your PC without affecting what's otherwise stored in Gmail. You can continue to use the Gmail web interface, and/or your mobile device(s), as before. Of course, you can also use the desktop email program, if you like.
My Ask Leo! article How do I route my email through Gmail?3 goes into this in a bit more depth.
One note about spam
One of the reasons we're using Gmail is because of its spam filter.
It's awesome, but it's not perfect.
You'll occasionally want to check the spam folder for any false-positive errors. You can also help train Gmail's spam filter by marking any spam you find in your inbox that Gmail fails to detect.
What's the catch?
Aside from a little complexity in setting things up, I can't really find one.
I suppose you could point out that by routing your email through Gmail you're allowing Google to "see" it, but that would be the case if you were using a Gmail email address directly as well, so I'm not particularly concerned about that.
All in all, I find it a very powerful email interface and a useful way to control spam.
---
Footnotes
1: I keep referring to Outlook as "Microsoft Office Outlook" to differentiate it from from the outlook.com email service. The two are completely unrelated, yet people often casually refer to either as "Outlook". I'm talking about the desktop email program here.
2: That doesn't mean that they can't see it, so don't make it something unprofessional or potentially embarrassing. The Gmail address used for what I'm laying out here will be included in the email headers that you normally don't see, so it's quite discoverable.
3: That article was used as a starting point for this one. 🙂
Podcast: Download (Duration: 11:22 — 10.4MB)